For carefree outdoor holidays in Kranjska Gora destination without your own transport
---
Transfers are provided by two comfortable Renault Traffic Passenger vans. Both are air-conditioned. Both have extended trunks. The 1st van takes 7 passengers, and the 2nd van takes 8 passengers, so we can transport up to 15 passengers in total. For bicycle groups, we offer transfers of up to 22 bicycles with two bicycle trailers.
Advance booking is required
From 15 € / transport
---
RESERVATION
Type of transport
Van
transfers
Destination
Slovenia,
abroad
Termin
When you need us, 24 hours a day.

For larger groups, advance booking is recommended.
---
Location
To alpine valleys such as: Vrata, Kot, Krma, Kranjska Gora, Jesenice, Bled, Bohinj, Vršič, Trenta, Zadnjica, Bovec, Kobarid, to the area of ​​Karavank, Kamniško Savinjska Alps and on and on.
We also connect alpine valleys with transfers, for example: Krma - Vrata; Bohinj - Vrata, Trenta - Krma....
We also provide transfers to airports: Ljubljana, Cologne, Trieste, Venice, Munich, Vienna...
We organize transfers of bikes and bikes groups. Up to 15 people with our vehicles (in cooperation with others, even more) and up to 22 bikes with two bike trailers (10 + 12).
We also rent bike trailers.
---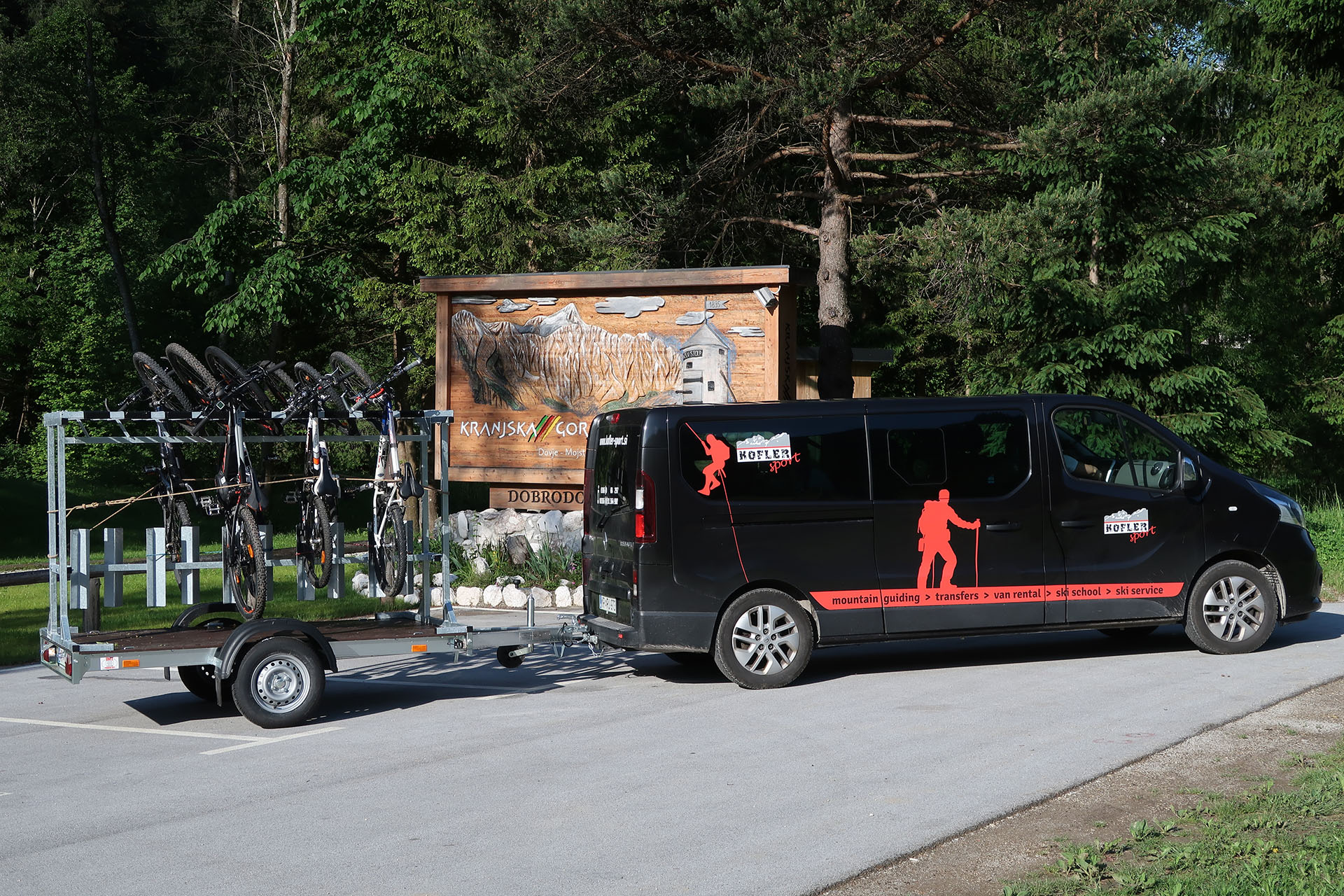 ---
Price
Please call us as it depends on the type of transfer and the number of people.
You can also write to us at: office@kofler-sport.si
---
RESERVE YOUR TERM TODAY!
Make sure you spend your free time actively. If you don't have transportation, don't hesitate to call The number of free places and available dates is limited, so don't hesitate to make a reservation.
Reservation
For more information, you can also call us or send us an email.
---
---
Related content
Check out the rest of the offer